Find Out About The Oldest Chimpanzee in the World 
Although chimpanzees are closely related to humans, their lifespans are far shorter than our own. On the other hand, they continue to be physically active well into their senior years and are seen to age more gracefully than humans.
Little Mama, the chimpanzee that currently holds the record for the longest lifespan, may have reached her mid-eighties, but we will never know for sure because her precise birthdate was never documented.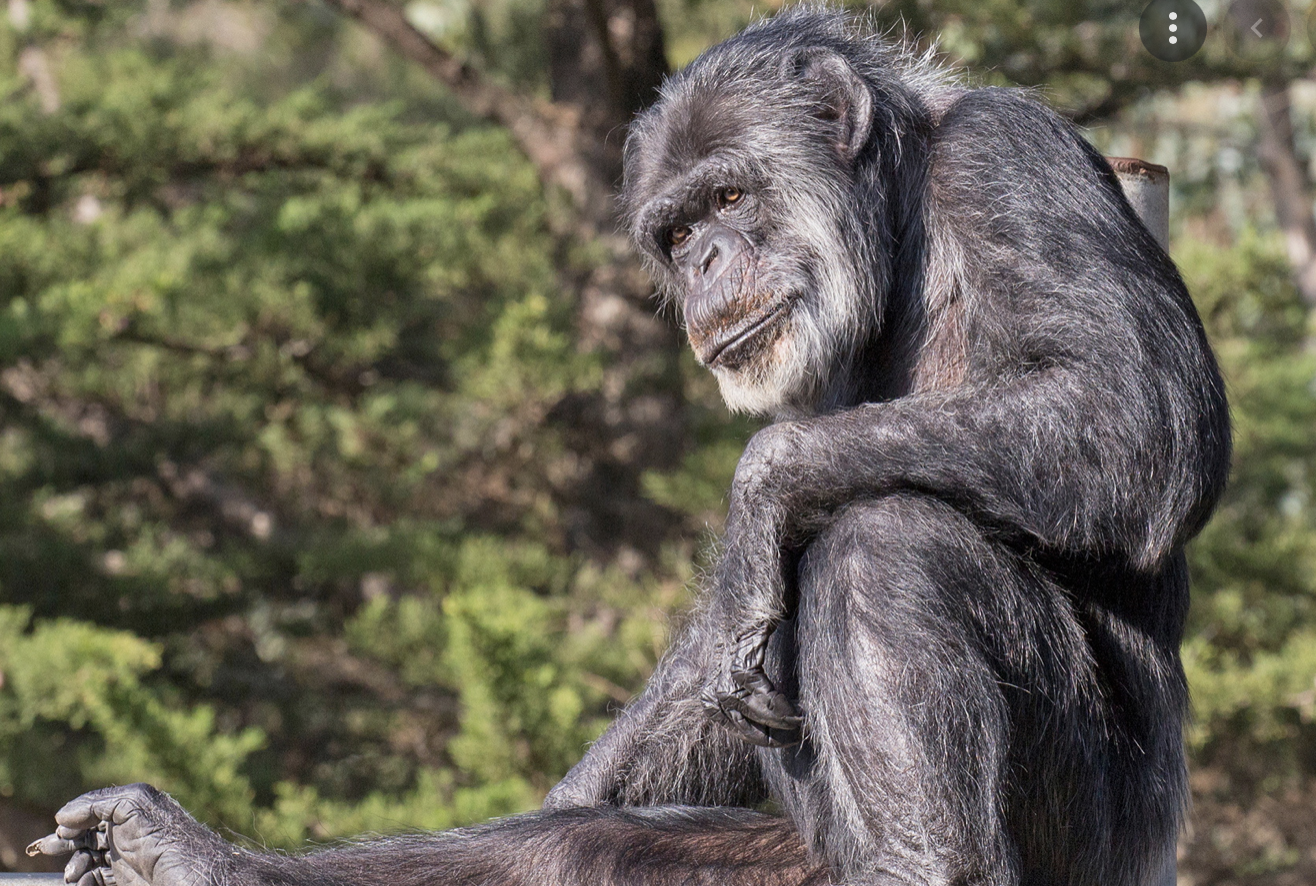 Since Joao is still with us, it is possible that he has reached the same age that Little Mama did when she passed away; if this is the case, he would be the oldest chimpanzee that has ever lived.
In this piece, we will discuss the oldest chimpanzees that have ever been documented. You will hear the tales of Little Mama and Joao, in addition to those of several other elderly chimps!
How Many Years do Chimpanzees Typically Live?
Chimpanzees can live between 15 and 30 years in the wild, while in captivity they can live between 30 and 40 years. Stillbirths are widespread, accounting for 12 percent of all births that take place in zoos that have been accredited. Infant mortality is significant.
In spite of this rather low average, there are chimps that have been documented to have lived for 60 or even 70 years.
Chimpanzees frequently pass away from circumstances such as stillbirth, the destruction of their habitat, illegal hunting, heart issues, and sickness.
The oldest known chimpanzee in the world
Little Mama could very well be the oldest chimpanzee ever recorded anywhere in the world. Since her birthdate is unknown, which is typical for confined chimpanzees, we cannot be certain if she is in fact the oldest chimpanzee that has ever lived.
Little Mama was made to work as a traveling ice skater, and she spent her final years at Lion Country Safari in Florida. Lion Country Safari is a drive-through safari that accepts animals that have been used for research or performance purposes.
They have a one-of-a-kind chimpanzee display that features islands that the primates can freely travel between. This enables the chimps to travel in a manner that is analogous to how they would do it in their natural environment.
Little Mama passed away in November of 2017 due to complications arising from kidney disease. It was estimated that she was between 78 and 84 years old.
Toumai, Auntie Rose, Joao, Gregoire, and Uncle Jacques are just some of the famous chimpanzees that live in a research facility.
Find out all about them in this article. There is a lot more information to come, but for now, I'll focus on the five most famous ones. You might also like to know more about their names.
Some of the famous chimpanzees that live really Long 
Toumai
A team of paleontologists led by French paleontologist Michel Brunet found an unusually complete skull in the Sahel region of Central Africa. The discovery was delayed for almost 25 years while Brunet consulted with colleagues in the field.
The skull possesses many chimp-like features, but it belongs to a family of hominids, a group of species more closely related to humans than to chimpanzees. The new species' scientific name, Sahelanthropus tchadensis, means "hope of life".
Toumai's skull is an important piece of evidence for the evolution of apes and humans. Its skull reveals the split between the two species earlier than previously thought. This discovery also challenges the "East Side Story" theory, which suggests that humans first evolved in the Great East African Rift Valley. This theory, which was favored by scientists before the discovery of Lucy's fossil, changed the entire paradigm of human evolution.
Joao
The age of the world's oldest chimpanzee is in dispute. Although Little Mama is often considered the oldest living chimp, Joao is actually much older.
When he was a baby, he was sold to a circus and kept in solitary confinement for 45 years before being transferred to the Jane Goodall Institute's Chimp Eden sanctuary. It is unknown what caused his death, but zoo officials believe that old age played a role.
The chimpanzees in the zoo are very social animals. Most live in large groups of over 100 chimps. Joao was abandoned by humans and was later relocated to a zoo. He is believed to be 73-78 years old. His age compares to that of Susie, who is 68 years old and lives at the Sunset Zoo in Manhattan. She likes pizza, Dr. Pepper, oranges, and blankets.
Auntie Rose
Auntie Rose was born in a research facility, but she was able to survive in the wild. She stayed fertile until she was 63 years old. While most chimpanzees don't reach that age, Auntie Rose had a son who became the alpha male for a time. Though his age was a factor, he still travels with his mother. The two women are devoted to each other and love to play with their babies.
While Mama was the oldest chimp in the world, her caretakers nicknamed her "Auntie." According to the author of the book, Chimpanzee Politics, Mama is thought to be about 79 years old. In 1972, Tina Cloutier Barbour, the primate curator of the Lion Country Safari, visited her. Her death has since been confirmed as a result of kidney failure.
Trixi
A recent study showed that the oldest chimpanzee in the universe is a woman named Trixi. In addition to being the oldest chimpanzee in the world, she is the oldest chimpanzee living in captivity. The chimp's age makes her an exceptional specimen to study. She has been alive for over fifty years. She was born in Congo and spent the majority of her life in captivity.
Gregoire
The oldest chimpanzee in the world has passed away. Gregoire, a female who lived in the Republic of the Congo, was Africa's oldest chimp. He was a pair bond with his female companion Clara. Despite their age difference, they were able to maintain a strong pair bond. Here are a few interesting facts about Gregoire. While we can't say that he was a sexy male, his relationship with his companion Clara is the most fascinating fact about him.
While living in a substandard zoo for his first 40 years, Gregoire spent his last years in a center where other chimpanzees were able to live out their lives. He was able to enjoy his environment there, interacting with humans, and laughing at his caretakers. He died peacefully in his sleep. While most chimpanzees live to be 50, Gregoire was the oldest ever.
Conclusion
We hope you enjoyed this article… What are your thoughts?

Please feel free to share this article!
Fact Check
We strive to provide the latest valuable information for pet lovers with accuracy and fairness. If you would like to add to this post or advertise with us, don't hesitate to reach us. If you see something that doesn't look right, contact us!