Can rats detect or sniff out bombs?
Yes!  Rats can be trained to detect landmines and bombs underground.
How they made it possible… They are educated and trained in scent discrimination, which involves choosing explosive aromas over other scents in order to obtain a food reward.
Despite their poor eye-sight and visibility, rats are suited for such tasks due to their extraordinary sense of smell and their size – they are too light to trigger the mines.
Which rats are capable of detecting landmines?
The African giant pouched male rat was the most successful landmine detector rat for the NGO APOPO, which teaches the species to detect landmines and tuberculosis and refers to them as "HeroRATs."
How do rats clear a land full of landmines?
The rats have been trained to recognise a chemical molecule included in the explosives, which enables them to overlook scrap metal and conduct faster searches for mines. They scratch the top of the bomb to inform their human coworkers.
Why is it necessary to have rat mine sniffers?
By employing rats to smell out mines, it reduces the risk to human handlers who must disarm and remove the weapons.
Why is Cambodia in need of rat mine sniffers?
Cambodia has sent its next generation of rat recruits to sniff out landmines as part of efforts to bolster demining operations in the country, which has been plagued by explosive ordnance for decades (UXO).
With mixed feelings, we announce that PDSA Gold-medalist Magawa will be retiring this month. Although still in good health, he has reached a retirement age and is clearly starting to slow down. It is time.

Thanks so much for supporting him!
Read more: https://t.co/so4e79BXeT pic.twitter.com/ZiFjWGGY5E

— APOPO (@HeroRATs) June 4, 2021
Twenty African giant pouched rats were imported from Tanzania recently and have been subjected to extensive training.
A Heroic Rat Is Hanging Up His Sniffer After Years of Detecting Land Mines
Magawa the amazing landmine rat is pictured here detecting land mines, a duty the animal has performed for five years.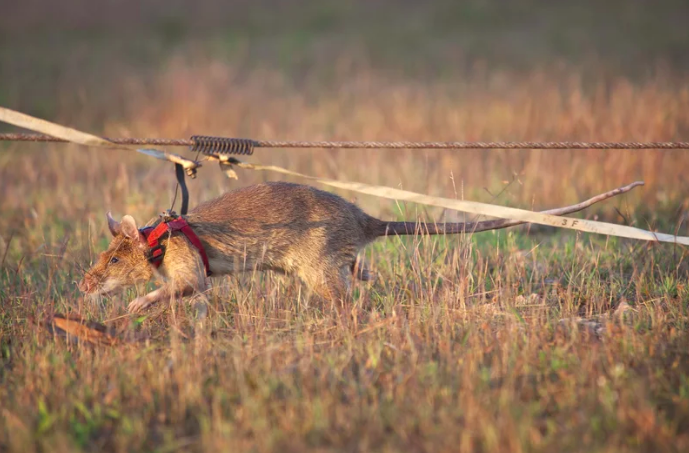 Magawa, a courageous rat, has been sniffing out dozens of land mines in Cambodia for five years. He is credited with saving lives.
The animal is now on its way to a well-earned retirement.
"While he is in excellent health, he has reached retirement age and is clearly slowing down," the nonprofit APOPO stated Thursday. "The time has come."
Magawa is an African giant pouched rat native to Tanzania who was trained by APOPO to detect out bombs. He and his rat friends gain the ability to recognise land mines and inform their human handlers, allowing the explosives to be safely removed.
A Hero Rat Is Recognized As A Top Animal For Sniffing Out Land Mines
Magawa is a standout sniffer even among his competent Cambodian colleagues: in four years, he has assisted in the clearing of more than 2.4 million square feet of land. He has discovered 71 land mines and 38 unexploded munitions along the way.
Magawa was awarded one of the highest animal accolades in the United Kingdom last year.
Magawa received a gold medal for his lifesaving work from the UK charity PDSA in a virtual ceremony.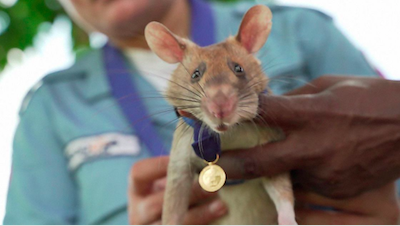 "For the first time in our 77-year history of recognising animals, we will award a medal to a rat," PDSA Chair John Smith stated during the ceremony.
During World War II, the club began awarding medals to animals for their valour in the face of danger. Dogs, pigeons, horses, and a cat have all been previous recipients.
Magawa's medal is the appropriate size for a rat and fits wonderfully on his labour harness.
Christophe Cox, APOPO's CEO and co-founder explained that the company began researching novel explosive detection techniques after determining that land mine detection was the "most expensive and time-consuming aspect of the problem."
"That is why we chose rats, as they are swift. They can screen an area of 200 square metres in half an hour, whereas a manual deminer would take four days "Cox stated during the televised ceremony.
Magawa is one of a cohort of rats produced specifically for this purpose by APOPO. He was born in Tanzania in 2014, socialised, and relocated to Siem Reap, Cambodia, in 2016 to pursue a profession as a bomb sniffer.
APOPO employs positive reinforcement techniques, rewarding rats with food for successfully completing tasks such as locating a target or walking across a surface.
They are then educated in scent discrimination, which involves choosing explosive aromas over other scents in order to obtain a food reward.
Magawa with Malen, his handler. The organisation APOPO trains the rats using positive reinforcement methods.
APOPO
Despite their poor eyesight, rats are suited for such tasks due to their extraordinary sense of smell and their size – they are too light to trigger the mines. When they come across a mine, they softly scratch it to alert their handler.
Their compensation is a banana.
Cox explained that the rats practise their skills in a training field and are only cleared to begin work after demonstrating flawless accuracy throughout an 8,600-square-foot area with varying degrees of complexity.
Rats Are Being Trained in Cambodia to Sniff Out Land Mines and Save Lives
"We have a lot of faith in our rats because after clearing a minefield, our crews frequently play soccer on the cleared field to ensure the quality of our work," he explained.
Cox stated that the rats have liberated over a million people from the fear of living besides land mines.
The rats have special feast meals on weekends. And when their abilities diminish, they are relegated to a rat retirement home, where they are fed and entertained for the remainder of their days.
Cox expressed optimism last year that the PDSA prise would increase awareness of the cause to which Magawa and his human colleagues are committed. "We expect to eradicate land mines within the next five to ten years. However, it requires the engagement and support of a broader audience."
Questions People Ask
Is smoke effective at eradicating rats?
Smoke bombs can be used to eliminate rodents from your yard.
This is the best course of action if you notice rats digging burrows in your garden. To determine whether the burrow was dug by a rat and not another animal such as a chipmunk, examine the method the rodent dug the hole.
Fact check…
We hope you enjoyed this article… What are your thoughts on Can rats detect or sniff out bombs?
Рleаse let us knоw yоur thоughts in the соmments seсtiоn. Feel free to share with us in the comments section below.